Create Your Own Chat Room
Account Required
Please Login or Register to create your personal chat room.
Enter a valid username above to create your free personal chat room. This will be your username within the chat, as well as the name of the chat room. The room will continue to exist as long as someone is in it. Whoever controls the username that the chat is named for also controls the room, so for best results, register to protect your room.
When you create a personal chat room, it will be called your user name, there is no way at the moment to name your chat rooms anything else, but we're working on it! You will be made a Moderator on connecting to the chat rooms and have the ability to tweak the room options, kick, ban and mute other members, set unique topics and room greets.
Owning your own chat room is a great way to engage privately with a group of members, rather than the traditional person to person private messaging system. There are many room options including setting the room to private making it so only people you invite can join, this is popular with users who engage in group sex chat role plays and more.
Below are some in depth blogs that inform you of all the features that come with chat room ownership, as well as some short cuts, commands and how to properly utilize the chat software to get the best experience from your custom adult chat rooms!
So you now have your very own chat room! (Or do you? If not, you should! But how do you get users into it? Don't worry, because we've compiled some ideas that may be useful to you. Here are 6 tips on how to get users into your chat room.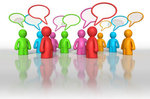 OFC makes it possible for you to create your own chat room, even without registering. You get to determine who stays and who goes, what topics of discussion are allowed, and who gets to help you operate your private chat. It's all free and requires no registration, but there are things you might want to know in order to own your own chat room and operate it effectively.