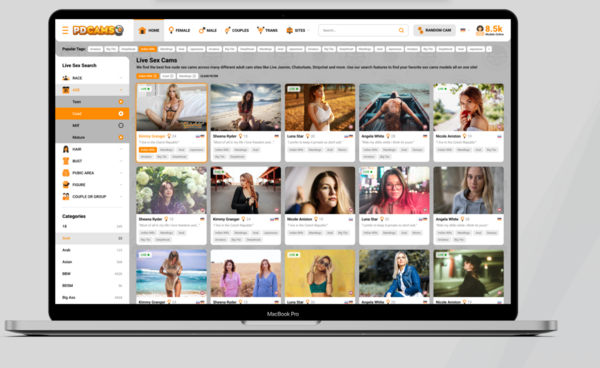 It's no secret that live sex cam sites are quickly becoming the preferred adult entertainment for those who like their porn consumption with a tonne of interactivity and the chance to direct the action happening in the scene.
Traditionally, sex cams are thought of as a webcam feed centred on some masturbating whore as guys throw tokens at her to go harder, faster, and deeper. However, that's the tip of the iceberg.
From gangbangs to BDSM, live sex cams have become revolutionized in recent years and now cater for a range of kinks and fetishes longer than your dick! Today, I want to introduce you to the BDSM side of things. More specifically, the filthiest fetish cam girls I've come across in recent months.
These girls are guaranteed to make you submit and can make even the most Alpha of men slide a ball gag between their lips, bend over, bite the pillow, and pray for mercy as they hear a strap-on being lubricated behind them.
Now, get ready for a lot of latex and candle wax as we look at some of the filthiest BDSM cam girls you've ever seen! Arabian Calli One of the things I love most about live sex cam sites is that they can bring users into the bedrooms of women around the world. Not only does this provide an insight into the international sex lives of others, but it also helps to break stereotypes. Arabian Calli is a prime example of this.
Wearing a characteristic headscarf, this beautiful Muslim girl hails from the Arabian Peninsula, and although she might look like a well-behaved religious girl, that's only from the neck up. Below the Hijab, Arabian Calli is often fully nude, oiled-up, and engaging in some of the filthiest live sex shows you've ever seen.
Not only is the entire religious-looking image of Arabian Calli taboo in itself, but her shows really push the boundaries of extreme porn. Only her hair is modestly covered, but her bare, shaved pussy is subjected to some of the naughtiest fetishes and BDSM acts you've ever seen.
From Femdom and hardcore anal shows to prolonged masturbation to hardcore porn, Arabian Calli shines a new light on the unseen world of sex in Arabian countries. She also has an insanely hot Arabian body to match. Dani Daniels Another iconic porn star who switched the Panavision camera for a 4K webcam is Dani Daniels. This hypnotic slut specialized in some of the most hardcore niches of porn imaginable, so her transition into ruthless fetish cams was pretty flawless. Don't worry; she didn't leave any of her hardcore fetishes behind with her porn career. In fact, they just got taken to another level.
Whether she's being tied up with Shibari rope and being made to undergo relentless forced orgasms for hours on end or switching things up and pouring candle wax on a bound sub's balls before stretching his ass out with a strap-on, Dani Daniels will have you coughing up cam site tokens in tribute to her debauched behaviour. Lilith Rose is a Classic Big Titty Goth GF The online obsession with "Big Titty Goth GFs" is growing massively. But few cam girls characterize this aesthetic as Lillith Rose does. She's literally a busty, latex-clad Goth girl with a sexual attitude as wide open as her asshole is after an intense anal session.
Plus, Lilith Rose is a switch. This means she's just as likely to use your face as a sex stool whilst she watches ten hours of porn straight as she is to let you tie her up, gag her, blindfold her, and then use her holes like a cheap sex doll. Be careful, though, and put a towel down because this Goth bitch squirts!
You really don't want to miss out on Lillith's insanely big sex toy collection of fucking machines, pussy pumps, and giant dildos. All of which she's keen to demonstrate on her body in a private cam room for a few tokens. Siswet19 This sweet-looking Dutch blonde with a perfect body looks like an innocent college girl. But holy shit, don't judge a book by its cover. From the age of 19, Siswet19 has been capturing the hearts and cocks of countless cam site viewers through her slutty antics, and she's now turned it into a full-time career.
If you want to know how popular she is, just look at her 1.3 million followers to see what I mean. But surely a girl as innocent-looking as this wouldn't indulge in BDSM sex, right? I hear you ask. Well, Siswet19 has a lot of naughty surprises in store for you, especially in her forbidden hole.
From solo fetish fun to BDSM sex with men and women, there is a lot of kinky smut on her cam streams to enjoy. She might look innocent and petite, but her tight body defies reality and can absorb even the most jaw-dropping of giant sex toys.
This horny Dutch slut was even given a Pornhub award for her anal performances, which really tells you everything you need to know about her cam sex shows. HotFallingDevil This innocent-looking fetish cam model has more sex toys than your average adult superstore, and she's not shy about using them to push her body to the absolute limit! This heavily active cam whore in her mid-20s can often be seen punishing a male sub and railing his ass with a big strap-on as her giant tits bounce around wildly.
You can even throw her a few tokens to put in special requests of what she should do to her sub. Ass-to-mouth, spank him, spit on him, or sit on his face? The BDSM world is your oyster with HotFallingDevil! The Future of Virtual BDSM is Now Modern cam sites offer far more than just plain ol' female masturbation, and these girls are the open-minded pioneers taking the world of virtual BDSM sex to the next level. We've only touched the tip of the strap-on when it comes to fetish cam models in this article, but who will be next to join the ranks of the latex-clad Goddesses?