Well-Known Member
OFC Regular
I have been using the site for quite a few years .. but lately, every time I try to load a page .. usually in the forums area (chat works tine) my antivirus software flags something about the page ...
I use Avast anti-virus (for many years now) .. but lately, it always returns this message ...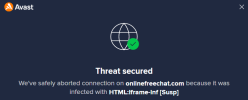 I thought you ought to know about it, in case there is something that could be done ...
Thanks